This is my first attempt at pants! Like REAL pants. Those with zippers and not yoga pants or lounge pants. Zippers are a challenge for me. Unless they are invisible zippers, which I can add in like 30 seconds with my eyes closed. So when Burda offered this pattern kit last October, I splurged since there were videos on how to sew the zipper. Which truly is what I need. I thought these pants had potential. So as a trial I opted for this thin sort of satiny material. I just had enough of it.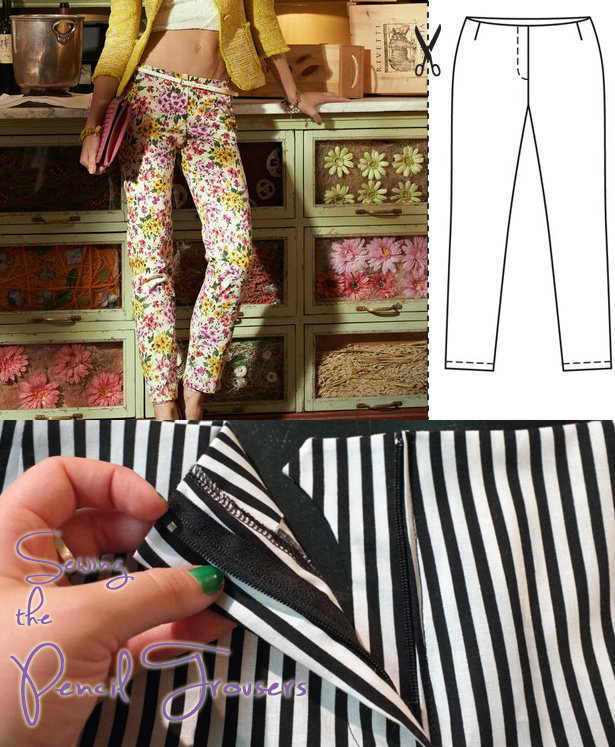 This was my first time with a Burda pattern. Many burda patterns are downloadable and you have to print it out on A4 PAPER. Which is really, really important. AND really hard to find. I purchased mine from Amazon. It was something I could not just walk into a store and buy a ream. But I printed my pattern and was good to go! Things matched up. But then I had to add seam allowance (GRRRRR). That took awhile. next time I am just going to rig up a colored pencil/marker deal. This took a long time and it shouldn't After I got that figured out I used their video tutorial and their step by step directions. Which were ok to follow. You need to be well versed in sewing patterns to do Burda patterns.
Here are some shots while I was doing the zipper etc.
How nice is that zipper!!!!! Ekkk! There were times like in the inner fly that parts really needed to be serged.
Here are my done pants!! They completely fit in my wonderful hips and butt.
Yeah needs long shirt or else WOW I look really super hippy.
Kind of crazy fabric I know. But for a first try I really did like this pattern (not fabric pattern). I did take some in on the legs but due to the fabric they might not take to much more taking in- I needed some ease for walking, squatting, etc. I like my funky pants. These will be perfect in the summer time. Can't wait to style it, again I would love another sleeveless drapey long top just like those
tribal pants
I made.
So my assessment of the Burda Kit. This was an odd kit as there was also tutorials and the pattern had added a leather knee patch. But there is no picture of the pants look with the knee patch. I mean what they advertise are those cute flowered pants. There is no end picture of the pants that they sew in the videos. In the leather knee tutorial, the person had no idea about sewing leather correctly. Yes having a leather needle helps BUT...... you really should be sewing with a teflon foot or do the masking tape on your sewing foot trick to actually help the sewing. How do the people at Burda NOT know this??? Seriously, this is all they are about- how do you make a tutorial and completely leave out the foot? That was a bit disappointing. Some of the instructions were hard to follow. The styling file I could do without. But the zipper video was priceless. I feel much more comfortable (or I think I do) with sewing pants with zippers. I do like this pattern, I did add 2 inches to the bottom of the legs and did a small hem. I think with some modifications, I can make it even better. Overall pretty happy!!
Cheers,
Lauren